I'm so very excited about the project I just completed!! (And by 'just', I mean, about 20 minutes ago!) It's a desk re-do (and I think the first makeover I've ever done by myself!), using a desk that we've had for a number of years, that one of the boys had used when we were homeschooling. We used to have 2 of them, but because of not having enough space had gotten rid of one. I really wanted to hang on to one of them because it's just such a good solid piece (real wood, not particle board!), but I was debating about whether or not to just unload it in my never ending quest to 'make more room!!!'. I finally came to this conclusion...I'd try to pretty it up a bit to make it a more welcoming part of our family room; if it worked, it could stay. If not, it was gone. Well, let me just say...it's staying. :)
So here's the 'before' of the desk, originally a 'standard issue' from a college dorm room (and some other junk I didn't bother to move for the picture):
And now the afters! I'm so excited...this is the first project like this that I've done (so please don't point out all the flaws; I see them and I'm ignoring them!), and I did it by myself too!! (I even used a
power tool
! That's a big deal for me, as I'm actually afraid of them.) :)
(OK, I will admit...I do see how wonky the drawer pulls are at the moment. After doing the first one, I got really nervous about lining up the second screw hole, so decided to just screw one side fast and beg for help from my hubby to do the second one. They're only fastened on one side, so the other side is dropping slightly. And I am also driven by guilt to say that the pillow on the chair is purely for 'staging' purposes...I just wrapped the extra fabric around a pillow I'd already make for upstairs and pinned it. But I'm planning on making a pillow...and maybe even some curtains...with that there fabric. Maybe you'll see that in a post later on. First I gotta figure out how to replace the sewing machine needle that my dear daughter snapped off. There...confession time over, I feel better!)
I'll be linking up at these parties!!!!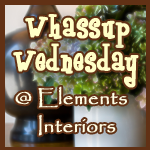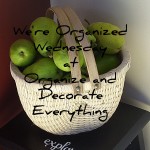 and here...(I couldn't find a party button - sorry!)
http://www.centsationalgirl.com/2011/04/paint-projects-link-party/